Dangal creating a history; it's Dangal and earns with an average of 20 core and breaking all the records of Indian Cinema. Dangal Earns 3.45bn in three weeks in India and $26.7 million worldwide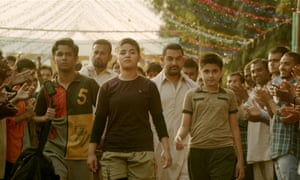 Geeta won a gold medal at the 2010 Commonwealth Games and in 2012 was the first Indian female wrestler to qualify for the Olympics. Her sister topped the podium at the 2014 Commonwealth Games.
The girls are initially reluctant but change their minds when they see the alternative for young women in the village: an early marriage and a lifetime of child-rearing and domestic labour.
Amir beats his own Films
MR. Prefectionsit Amir khan beating himself. Amir's  film release after two years and it smashes all records of Indian cinema and beat his own movie PK which was release on 2014.
Dangal Review 
"It's a marvellous thing that it has done so well because it's not a traditional Bollywood film," said Anupama Chopra,
"There's no love story and its about very strong women. There are no gorgeous young people romancing each other in Switzerland. The only traditionally sellable element is Aamir Khan, and he plays a much, older overweight man – and yet it becomes the biggest hit in Indian cinema."
She said the film's success "tells you that audiences have evolved, and not just in the urban centres".
"It gives a sense of how viewers are feeling about the difficult conversation that's being had about women in India in recent years," Chopra said.
"He has the best gut in the business," she said.
"The script erases the girls and constantly credits [Mahavir Phogat] for braving the taunts of conservative neighbours,"  Hindustan Times said.
"This is unfortunate because in reality, the young women would likely have been the target of a bulk of the disparaging comments and could only have carried on with extreme courage."
Dangal was released on 23rd December 2016 and still running Good , Dangal earns 4.75 core on its third monday 10 Jan 2017. Dangal starring Amir khan, Fatima Sana , Sanhya as a lead role.